At 2:04 PM, Dianna Hyland has finished.
Pace: 8:09 per mile
Finish Time: 3:33:22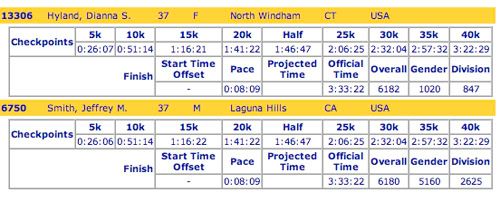 And I think this might be a PR! Way to go Running Chick! You rocked the Boston Marathon in tough conditions and PRed! You are a true inspiration! Looks like that Jeff guy did okay too. You guys are great.
Thank you Michelle and Jeanne for all the phone updates and phone pictures! I couldn't have blogcasted without you!
Oh, and thanks to David for being the official statistician and go-fer for the reporter! (He made me say it.)
**Posted by Runner Susan